It's no secret that we find and sell old things. It's what we do.
Our job is to source it, haul it, clean it, polish it, research it, describe it and merchandise it so our customers see how amazing "IT" really is!
And it's the "IT" that we want to talk about.
So is IT just . . .
A primitive cabinet constructed out of hand sawn scraps of bead-board with square nails and rabbet joinery?
-- OR --
is IT . . .
Evidence of the skill, thrift, ingenuity and circumstance at work in the 1930s?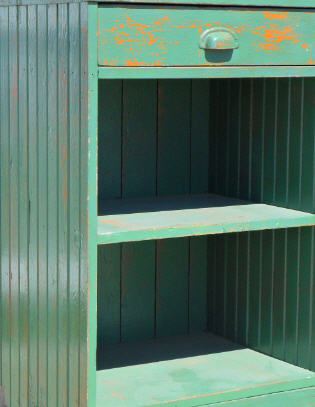 The answer depends on how you see things.
Providing a criteria of fifty-five years old, all of the cateyegirls now qualify for a senior discount – we're all on the other side of youthful exuberance! All of which means that for us to be cashing in on senior discounts in 2017 our parents entered the world in the 1920s, our grandparents in the late – 1800s to early 1900s.
So when we look at something hand-made -- quilt, cabinet, table, doily, lace -- and old enough that our grandparents could have made it in their youth we see a lot of past tense verbs at work.
Our grandmothers sewed, crotched, darned, mended, knitted, embroidered, quilted.
Our grandfathers designed, built, maintained, repaired, tinkered, remodeled, recycled.
Lots of work in those last two sentences! Lots of hard work with hand tools employed in dim lighting!
So NO, it's not just an old bead-board cabinet with some square nails holding it together.
IT . . . is . . .

Tangible evidence of a person's life guided by skill, thrift and ingenuity born out of the disparity of the 1930s US economy.

AND

IT . . . is . . .

A lesson in history, gratitude, humility and perspective . . .

Because, after all . . . We're all just a few generations removed from . . .

Living in a sod house with a dirt floor tilling a Dust Bowl for nourishment
-- OR --
Toiling 9 hours a day, six days a week in the Triangle Shirtwaist Factory and living in the squalor of 1911 inner-city tenement housing.