We learned something yesterday . . . how to remove hard water stains from an antique porcelain sign.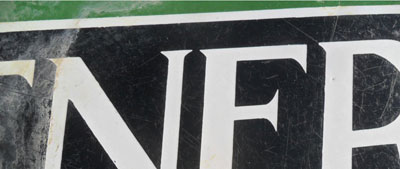 So we find this wonderful old General Petroleum Corporation 2-sided porcelain sign with hard water stains on one side. It must have spent considerable time immersed in water to have ended up in this condition. Nevertheless we set about cleaning it in the kitchen . . . first with hot soapy water to remove actual dirt so we could assess the situation.
From there we knew from experience that using too gritty of a compound might actually damage the sign. Hmmm . . . look around the kitchen for what to use next on it . . . Magic Glass Top Cleaner and Polish was at our disposal.
So with a Scotch pad and Magic Glass Top Cleaner we scrubbed our way across about half of the sign, first testing a little spot to insure we weren't doing more harm than good. It worked.
It worked insofar as with a little elbow grease and our kitchen stove cleaner we removed the hard water stains. Our goal was not to polish it to make it look new and scratch free. Rather -- we just wanted it clean and tidied up. The scratches we consider patina . . . the kind that only time and pressure can create. Now after scrubbing "General" we need to return to the task of polishing the rest of it!
Happy hunting!