Here we go . . . it's a new antique show / vintage market season, with some new dates, some new and some old venues . . . We have two shows that we are awaiting dates for . . . we will fluff up the our road show schedule when dates are confirmed :)

Tri-Cities Antique Show . . . with a twist of vintage!
March 13-14, 2015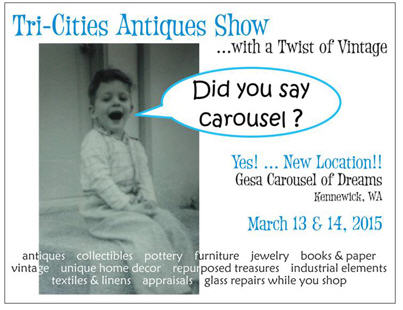 The 2015 Tri-Cities Antique Show . . . with a twist of vintage! extends the welcome mat to traditional antique show dealers and those who are drawn to vintage, repurposed treasures, unique home decor, painted (or not) furniture and industrial elements for the unique and personal home. The Tri-Cities Antique Show . . . with a twist of vintage! kicks off the antique show season in Washington. For us, it is a must vend at show . . . as it catapults us into the season.
This year the Tri-Cities Antique Show . . . with a twist of vintage moves into the GESA Carousel of Dreams building in Kennewick . . . right off I-82 -- exit# 113 -- and paid entrance to the antique show gains a ride on the 1910 vintage carousel.
---
The Farm Chicks Show
June 6-7, 2015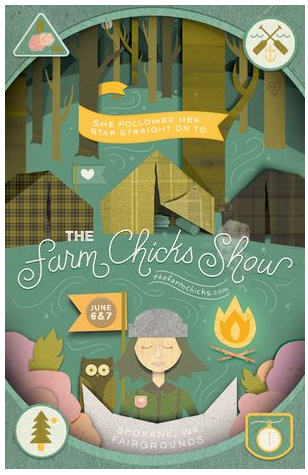 The Farm Chicks Show is held the first full weekend of June each year in Spokane, WA and features antiques, vintage, crafted goods, and the most friendly and stylish curators around. 2015 will be our 3rd year at Farm Chicks . . . and we love the energy of this show -- it's like a day in the park with everyone HAPPY to be there!
---
The Rustique Divas Vintage Market
August 28-29, 2015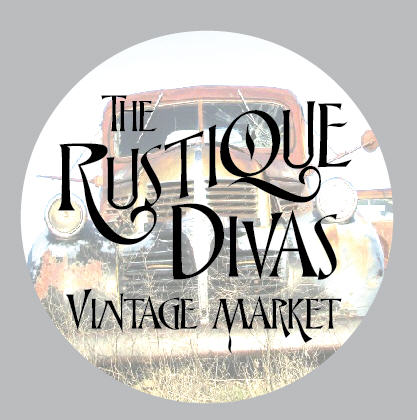 A place where you can expect the unexpected, you will find rustic elegance and old barn treasures with a touch of sassy cowgirl and a pinch of gypsy flair. We love this vintage market . . . beautiful setting in Historic Downtown Waterville, a worthwhile cause to support -- produced and promoted by volunteers -- with the proceeds from this vintage market going to support youth activities in Waterville . . .
Also of interest . . . Join the
Rustique Divas at the Pybus Market
in Wenatchee on
Saturday, April 25th, 2015
. Thatís right Ö their famous summer vintage market in Waterville comes to Pybus Market in Wenatchee. They will have regional vendors selling antiques and collectibles; refurbished and rusty, purses, jewelery and everything in between! If you are interested in being a market vendor please send the girls a message at
rustiquedivas@gmail.com
---
Junk Bonanza
October 9-11, 2015

A Ki Nassauer -- of Junk Market Style fame -- event for purveyors & shoppers of vintage finds, beautiful antiques & artisan-repurposed pieces. This is the consummate vintage market that has moved out of the mid-West . . . into San Diego and Portland.
---
You can find our wares in the following brick and mortars anytime: