Our beloved customer, Laurel, has once again graciously shared some pictures of her holiday decorating . . . Enjoy, her vignettes are delicious . . . zero calories and tons of inspiration!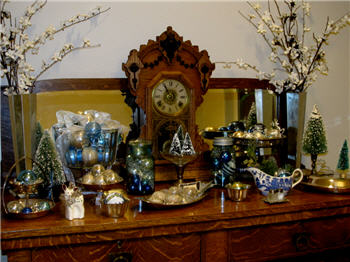 We were secretly hoping to run into Laurel at the Roxy . When that didn't happen we emailed Laurel last week for some holiday cheer and inspiration . . . Here is her reply . . .
"I'm in the process of decorating, so I don't have very many pictures yet, but I am sending a few of the display that I put together today. It is a blue and silver with touches of green display on the buffet in my dining room. Lots of glass and silver dishes with ornaments, including some little silver cup molds from Germany that each fit one ornament inside perfectly. Also a couple of blue Ball jars (one of which came from your stuff in the basement of the Roxy!) with blue and silver ornaments and silver tinsel inside. There's a silver lidded dish that was a wedding gift to my Mom with a bottle brush tree and a little reindeer cookie cutter on it, and a couple of other reindeer are included n the display -- sort of hiding among other things."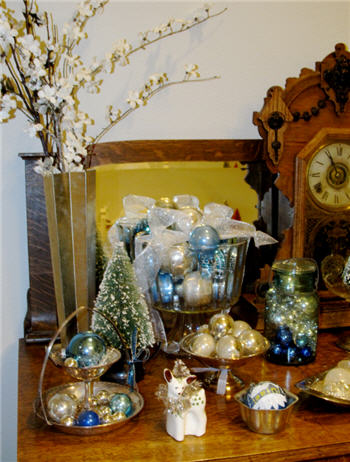 "Here are pictures of the wrapping paper/accessories display. The biggest Scotch tape tin on the bottom of the stack inside the suitcase came from your stuff at the Roxy. The old bread tin is actually used to store wrapping paper rolls all year long, so I just took out the ones that are usually in it and added the Christmas ones. The toy box is usually in the room that I have decorated with little kid's stuff and the suitcase is usually in a big stack that functions as an end table next to a chair in my living room. It is fun to take antiques that I already have and repurpose them for Christmas!"
Not to get all "wrapped" up in holiday decorating, but this vignette is too cute!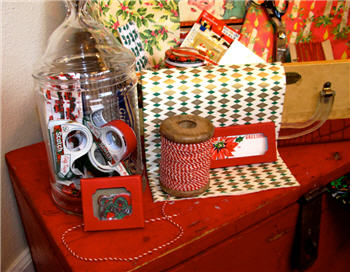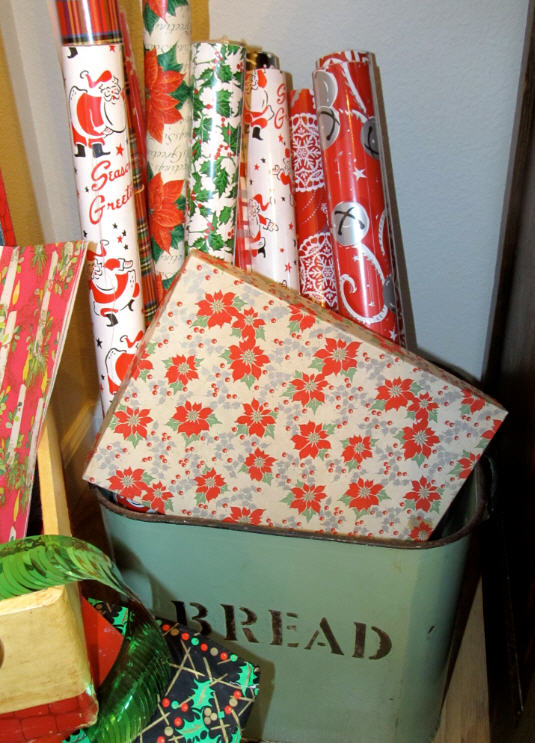 Are you as inspired as we are? Many thanks to Laurel for sending and sharing pictures!

Do you have holiday decorating pictures you would like to share?