It happened again . . . it happens at every vintage market we vend at!
A customer finds something, this time it was an iron bed at the Rustique Diva's Vintage Mar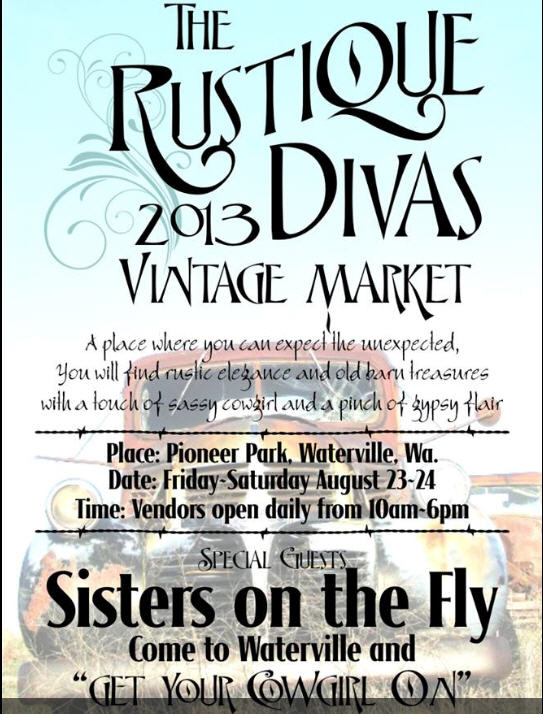 ket in Waterville, and they forgot to measure the space that the "something" is going to live in . . . so they step away, go home to break out the measuring tape and by the time they return to say, "YES" another customer has already bought what they went home to "measure" or "think" about.
As a vendor we know that we only have one and that time and again when one customer expresses interest in something it is only a matter of moments that another customer will want the same one-of-a-kind item that the first customer expressed interest in.
It happens all the time and the disheartening part about this scenario is the utter disappointment that is written all over the face of the customer who left to go home and measure.
Bring measurements . . . height, width, and depth of the space that you are going to fill with something you find at a vintage market.
Bring a picture and color chips . . . anything that will help you decide that the item you are interested in will work in your space.
Bring the ability to make a decision . . . try not to overthink your purchase. If a one-of-a-kind item is speaking to you or yelling at you to adopt it . . . make a decision to buy it or let it go and walk away without the possibility of regret!
Sorry to be so direct. But as a vendor it's really hard to watch the tears well up in a customer's eyes and see the disappointment written all over their faces because they didn't have the tools they needed to make a decision and then feel like you have to offer up a cliché like, "it just wasn't meant to be" in an effort to somehow make the customer's disappointment vanish.