Ever struggle with a loaded down tray that you use to haul napkins, silverware et al outside to your outdoor dining room? If you answered yes, here are a few ways to use old caddies . . .
1. Wire caddies hold glasses, glasses hold silverware and napkins . . . Which means that all of the acoutrement you need to eat a mea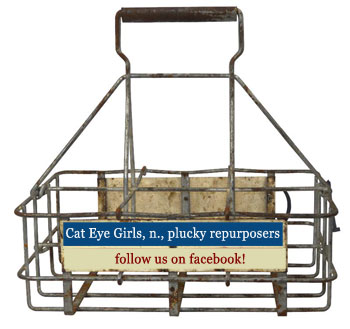 l in your "outdoor"dining room is contained in a little wire caddy that has a wire handle for easy delivery. Repurpose an old wire caddy to do your hauling!
2. Repurpose a vintage milk bottle caddy to organize your hair care products.
3. Fill a galvanized milk bottle caddy with guest towels and washcloths to repurpose it for guests.
4. Use an old milk bottle caddy and old canning jars as a centerpiece for your outdoor dining table.
Have any other ideas to share about how to repurpose a wire milk bottle caddy?