We are reeling with excitement . . . We just learned the date of the spring Ruffles and Rust: A Vintage Market to Inspire! May 11-12, 2012.
Things came full circle when we applied to vend at Ruffles and Rust: A Vintage Market to Inspire (October 2011). We had recently met Brenda and John Wahl of Circle Creek Home (famous for their hand poured soaps) at 2nd Saturdayz in early October, who are both Ruffles and Rust Show vendors as well as vendors in Ruffles and Rust Square in Historic Downtown Snohomish. With a late application, lots of pictures from previous shows and a little nod from "Circle Creek Home," we were accepted . . . which nearly sent us over the edge with excitement. Why? Ruffles and Rust is a blast, with fabulous vendors, amazing fresh picks and over-the-top displays . . . and we were going to be a part of it. Yeah! (Then came the "ohhhh" -- Can you say intimidating?)
So off we go with a truck and trailer full of old stuff . . . and a camera too! We were in such awe of the talents of other vendors we forgot to actually take pictures of our own space. Instead, we walked through the show just before it opened like wide-eyed-kids in a candy store. Wow!
Here are a few pictures that should give you at least a two-dimensional look at the depth and breadth of Ruffles and Rust vendors' displays:
We were so busy snapping pictures, we forgot to ask whose space this was at Ruffles and Rust. Do you know? We would love to give credit where credit is due for a great "vintage market" display.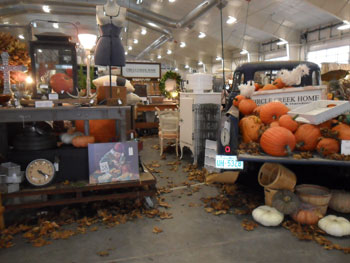 Complete with fallen leaves and ripe pumpkins, Brenda and John Wahl (Circle Creek Home) created a bit of a show stopper with their displays . . . it was so rich with details you couldn't help but want to step in and explore the details up close.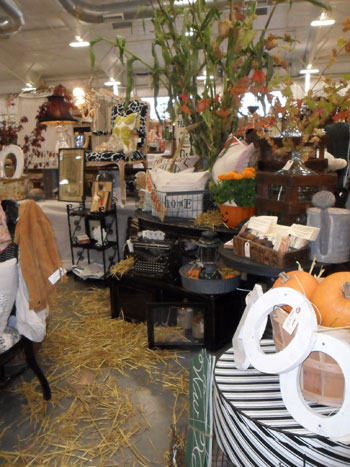 We are again at a loss . . . we don't know whose space this was at Ruffles and Rust . . . Do you? Was it the little pops of orange or the achoring effect of the black or all of the greenery that draws the eye in . . . maybe a little dose of each?
So now you know why we are busy hunting, gathering and stashing vintage finds, funky junk, industrial elements and little pops of color for Ruffles and Rust, May 11-12, 2012 -- to stave off intimidation! See ya' there!