We returned very inspired from "A Vintage Affair," a wonderful, new upstart of a funky junk, antique and vintage show . . . in Prosser, WA. Cheryl and Paul of Country Nester's Antique Marketplace have raised the bar on our "funky junk" show expectations. The setting for this funky junk show was spectacular -- set right on the banks of the Columbia River under the glorious shade trees of the 4 Seasons River Inn.
We had such a great time, met some wonderful customers, got in a some great laughs, found sources of inspiration from vendors like Forget Me Not, the French Hen, Garden Girl . . . . Cheryl and Paul hand-picked their vendors who hauled in some really cool funky junk!
So here are the latest "funky junk show" pictures!
Ted E., might be looking for his "forever" home in all the wrong places. He coaxed Jinx the Cat to join him, for a little funky junk show company . . . buckled up, long before the truck was started, the two were pretty excited to hit the road.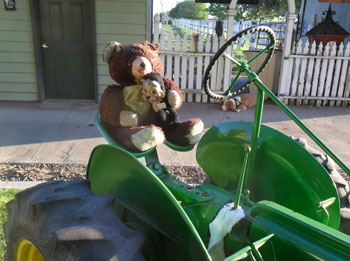 Upon arrival, Jinx and Ted E. headed straight for the vintage John Deere on display, thinking that it was an amusement ride while we unloaded the truck and trailer full of funky junk.
Auh,the coolest kind of funky junk. . . . peeling paint in technicolor . . . the kind only time and pressure can create. What is more charming than 1930's green paired with vintage barkcloth?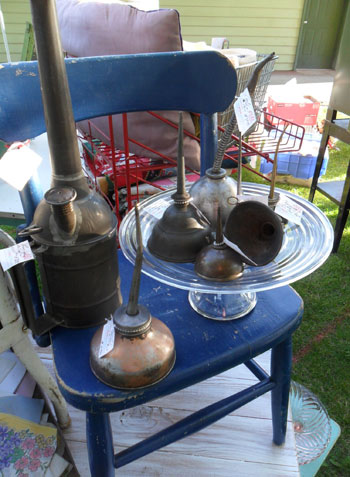 We are charmed by industrial funky junk. Old oil cans, we actually use the darn things to oil up old sewing machines, door hinges, sqeaky wheels . . . our favorites are the largest super-sized railroad oil cans and the most diminutive which Singer supplied with every purchase of a sewing machine. Nothing quite like a well-oiled funky junk machine!
Yes, we love old ephemera! Agent 99 stumbled onto an amazing collection of comic books all from the 1950s . . . Bugs Bunny, Red Ryder, Roy and Annie, Daffy . . . Add one to your summer reading list and relive the joy and wonder of your childhood!
The "garden" vignette is a must at a summertime funky junk show! Of the 3 brightly colored sap buckets the blue one is the funkiest of them all, you can see "Mobil Oil" peaking through the blue paint . . . clearly, repurposed scrap metal into what can now be used to collect sap or flowers!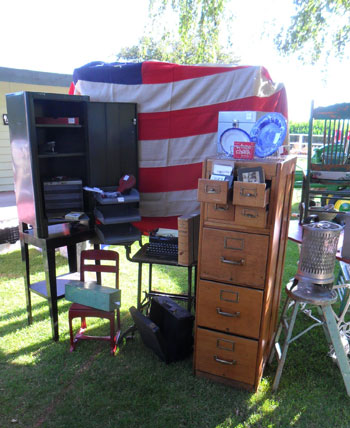 Sorry to report that not much remained of the funky junk "office" vignette. Drawers are sought after as well as anything with an "industrial" look and feel to it.
Let's bake! Agent 99 loves kitchen implements and funky junk from the kitchen.
The Gabby Goofies (FPT 4394, 1963-1970) taking a stroll through the garden . . . . Even with our gray hair, we are still charmed by old, wooden Fisher-Price toys.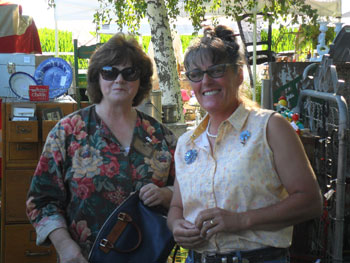 As a bonus to meeting and greeting really interesting and inspiring customers at antique and funky junk shows is spending time with some amazing vendors. The French Hen, otherwise known as Kay Anderson (on the left), is one of the most disciplined and thoughtful vendors we know.
Kay is meticulous when it comes to merchandising, knows definitively what she loves and what her customers love and can pair the most unlikeliest of elements that make our heart's sing and our jaws drop!
Agent 99 (right) on the otherhand has no discipline when it comes to assembling an inventory -- her criteria is simply it must be old and it must inspire or be a part of a partially assembled vignette. You can find them both at funky junk and antique shows and at the Roxy Theatre Antiques in Kennewick, WA.
This image could use a little explanation . . . normally, Agent 99's customers rifle through the stack of 1950s tablecloths on their own. They quietly assess colors, size and condition. Though more common than not, they find several yet only need one. That's when Agent 99 steps in to assist and holds each one up so her customer can really assess the merits of each one individually to narrow the choice through a process of elimination.
Sometimes, like this photo depicts, a crowd gathers to see just how amazing Agent 99's two foot high stack of vintage tablecloths really are. (The one being held up in the photo is one of the strangest old tablecloths Agent 99 has found. It's linen and has the wildest color palette ever seen -- bright yellow, orange and lavender!)
With John Deere, from left to right, is Agent 99, Karen of Forget Me Not and Kay, the French Hen. They can all be found at the Roxy Theatre Antiques in Kennewick, WA at at antique and funky junk shows.
Karen is the go-to source for some amazing reproduction textiles, including very unique "cowboy" barkcloth! She is also regionally famous for her sewing talents and pairing vintage furniture with the exact fabric and piping that will bring a smile to your face and joy to your living space!
Some of us cateyegirls love cats, some of us love dogs and some of us love both -- we're flexible that way! So here is Armani, the Country Nester's beloved seven year old Basset Hound who was the official greeter at A Vintage Affair!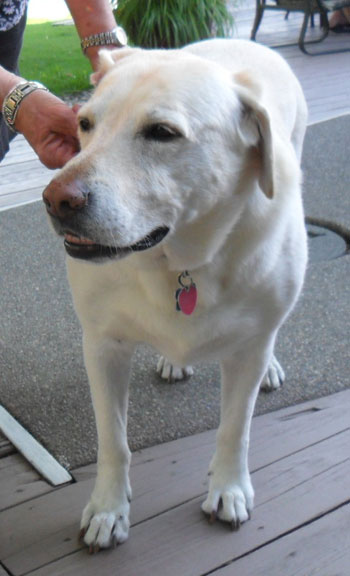 We would like to thank the venue host, Nancy and Buddy (shown here) of 4 Seasons River Inn in Prosser for making us feel like a welcome invasion into their beautiful home.
They were the most gracious of hosts . . . if you find yourself needing an escape, call 4 Seasons River Inn and check into the cottage and spend of few days on the Columbia River right in the heart of Washington's wine country.
That's it . . . a special thanks to our customer's who followed us to a wonderful new "funky junk show." We are grateful and appreciate the time we spent getting to know each of you a little more.