While we are taking a little break from the antiques show world and focusing on our mall spaces we thought that we should pen a little post about the shows we did last year that our customer's might want the inside scoop on.
Tri-Cities Antiques Show . . . with a twist of vintage!
March 11-12, 2016
It's the one show we are vending at this year . . . at least it is the one show that is on our calendar! (Hey, you have to leave a little room to change your mind :)
We have always loved this show . . . first one of the season on the "Brightside" of the Mountains and it's a nice mix of traditional antiques and vintage market finds.
This year our space will grow a bit and as of today we have 34 crates packed . . .
---
Junk Bonanza . . . October 14-15, 2016 . . . Clark County Event Center
Ki Naussaer and her amazing team brought Minnesota based Junk Bonanza Vintage Market to the West Coast: Vancouver (Ridgefield actually but you, like us, probably didn't know Ridgefield was actually a place name in Washington State) and San Diego. 2015 was the first year for Junk Bonanza West Coast Style and for us it made it to our pared down list of "Must Go" vintage markets. Why?
There were vendors with Big, Bold and Never-to-See-Again sorts of inventory . . . Think Farm Chicks without the crowds or the "antique-show-steroids," at least for now. With a nationally recognized promoter at the helm and a wonderful team of professionals supporting the show's customers and vendors we are thinking that this show is going to grow up in an extraordinary way in the next year or two. For us Junk Bonanza Portland 2015 was relaxed version of Farm Chicks, with inspiring vendors who didn't disappoint us in their product offerings or their merchandising prowess. (As an aside, we were struck with how seamlessly the show came together when all of the Junk Bonanza Team lives somewhere else. An extraordinary organizational feat from afar! Clearly, this show was about Vintage Market CUSTOMERS, not vendors or promoters!)
---
American Primitives at Clayson Farm Antiques Show . . . 2nd Saturday in August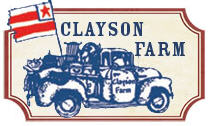 While the American Primitives at Clayson Farm Antiques Show moved to the fairgrounds in Yakima in 2015, off the beautiful farm it called home for 10+ years, Leslee Mobley --the show's promoter --brought together a wonderful group of vendors with some amazing old stuff.
One of my favorite vendors, Gary Slavin . . . he's the guy who toils all year in his garage refinishing American Oak pieces and some of the most wonderful primitives I've ever seen with the space in the corner to the right as you entered the show along the babbling brook, wasn't there . . . had a little surgery that got in his way. While the loyalists assuredly missed Gary, Leslee pulled it off in grand style filling her antiques show with what appeared to be a few more out-of-town vendors who hauled in a wonderful mix of old and fine and rusty and primitive and industrial – all the elements that make a great antiques show! We were like kids in a candy store.
And, as always we saw lots of familiar faces of shoppers who are singularly loyal to this show out of experience: They know they will see, find, covet old things that just make their heart's sing!
---
Funky Junk Antique Show . . . Labor Day Weekend in Sandpoint, Idaho
2015 was the first year we vended at Funky Junk Antique Show in Sandpoint, Idaho . . . It IS so worth the trip. Great, intimate antique show hosted by welcoming and oh-so-helpful promoters – Funky Junk Jennifer and her husband Nathan – at the oh-so-charming Bonner County Fairgrounds just minutes from Sandpoint proper . . . on Labor Day Weekend.
Seriously what's not to like about spending Labor Day weekend in a beautiful community, with some fine local dining, some great antique stores AND a Funky Junk Show. Totally worth the trip which you should be making plans for NOW.
---
Rustique Divas Vintage Market . . . August 26-27th, 2016
This is one of our personal favorites for several reasons . . . set in a city park, in a charming little town . . . it has always reminded us of a show that while road-tripping into Jackson Hole, WY . . . Yes, we know Jackson Hole has been pared down to Jackson . . . but still use an old map, not a smart phone for directions . . . a number of years ago we stumbled upon a little park antiques show where some amazing 1930s quilts were speaking, actually yelling, at us. We brought them home. Still have them too.
Held in Waterville, WA . . . a charming little town that you drive into and go "auh" this looks and feels a lot like things used to be. In a word – simpler. It's one of those shows you do to support the community. All of the funds raised from gate admission to what the vendors pay for their spaces is funneled back into the community to support activities for kids, like keeping the ski rope tow moving in the wintertime.
---
Farm Chicks Antiques Show . . . June 4-5th, 2016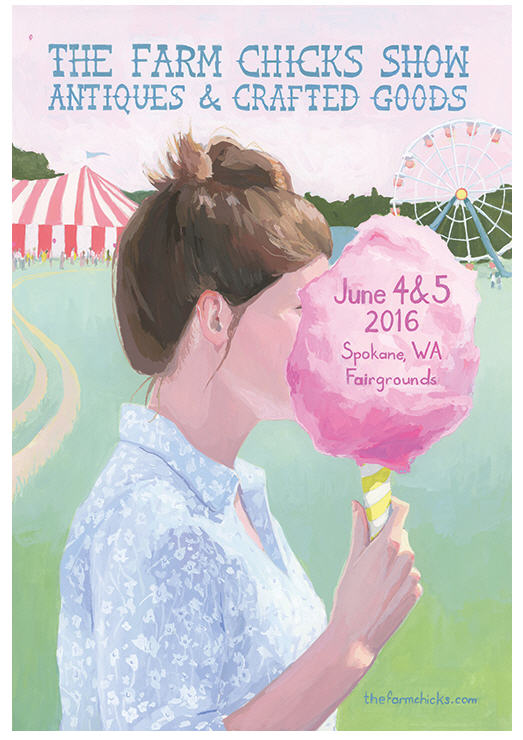 We had a blast vending at Farm Chicks the last three years: felt like we were a bit out of our element amongst this extraordinary group of talented, professional, inspiring vendors. 200+ vendors in three buildings . . . We just don't know how to describe it except Farm Chicks is a vintage market on steroids. It is amazing and if you have yet to experience it . . . Do! Put it on your calendar and go! It is singularly an amazing antiques show that will not disappoint you!
---
So you may be wondering what we are going to be doing since paring down our antique show / vintage market schedule? Hmmm . . . All of our inventory will debut in the stores we sell out of instead of making their first appearance at antique shows / vintage markets . . . Our work continues on a redesign for this website . . . When the arena dries out Socks will continue with his dressage education . . . A little vintage inspired sewing project will come to life soon and will be available in the fall at the Roxy Theatre Antiques . . . An online store is germinating and might sprout this spring . . . Some fencing may be whitewashed when temps reach the 70s . . . One of us will officially return (never really left except when a hand was broken which impeded typing) to the most wonderful part-time-day-job that works as nicely as a real job possibly could in accommodating a busy antique mall / show vendor . . . AND we will continue to learn knew things everyday and share what we learned here.
Happy hunting and gathering!