We have so many wonderful things to say about our experience at Bill's Berry Farm's Antiq
ues on the Farm show . . . and just in case you scan this post, instead of scroll and read through it's entirety . . . this is what you need to know:
Antiques on the Farm at Bill's Berry Farm is a --
"Must attend" antique and funky junk show sort of antique and funky junk show!
The Michener family made us feel welcome and a valuable part of their "grand farm plan." You can see their "family" values in play at every warm and gracious gester that ensured every vendor and visitor to their farm had a great time!
Volunteers made sure "Antiques on the Farm" vendors stayed hydrated and nourished.
Farm visitors and vendors who parked in the overflow parking area were shuttled to the entrance of the festival, compliments of Jace Michener and John Deere.
Children were treated to shaded play areas with swings and slides and a novel, clever and fun ride in "farm animal" train cars.
Saturday, a family of bluegrass musicians played and inspired us to tap our toes and hum along to the standards.
A wonderfully talented jazz performer set the mood with her beautiful voice and playlist, while her dad and thirteen year old brother set the tempo and provided the "baseline" for Friday night's "First Pick!"
Vendors were juried to ensure the picks would be fresh and fabulous. And, the vendors didn't disappoint them. They hauled in some really cool old stuff, which really made it more of a picker's paradise than an antique or funky junk show.
And the food . . . delicious! The lemonade thirst quenching, the burgers were yummy and the donuts . . . imagine the most delicious, freshest blueberry and cherry donuts you have ever tasted and then rachet your imagination up a notch . . . that's how good they were (this written by Agent 99 who squirms at the very mention of fruit in her pastries!)
We had a wonderful time, met in-person some of our facebook followers, sold some really cool old stuff, encountered some inspiring vendors with fabulous finds and watched in amazement at the farm-fresh-joy Bill's Berry Farm's visitors experienced!
We LOVE Bill's Berry Farm -- and will make this an annual event on our "show circuit!"
No blog post about an antique or funky junk show that we vend at is complete without pictures . . . so, here they are: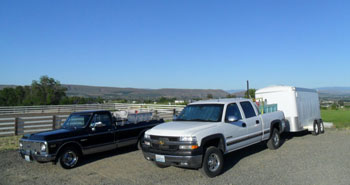 From our farm to yours . . . Ready or not, here we come!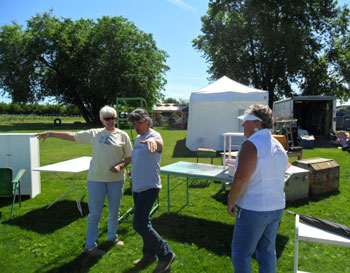 Setting the "bones" of a show display, it's the hard part of doing shows. Notice that Agent 99 is pointing in one direction and the Kitchen Queen is pointing in another! Talking with hands, sharing ideas, leading, then following . . . that's how CatEyeGirls set the bones and build out displays.
Pink, white with a touch of turquoise! The pink inspiration came from one of our facebook fans . . . who LOVES pink and it seems to have rubbed off on us! (For the budding orinthologist in you . . . notice the gaggle of "Flamingeese" hunting and gathering treasure in front of the Cat Eye Girls displays . . . they are an extremely rare and exotic bird, most commonly found at outdoor funky junk shows!)
At the very top of this "kitchen" vignette is the coolest ever, never-used, in the original package, old wax paper dispenser from a grocery store in Waitsburg, WA . . . red and white, in pristine condition . . . complete with a 4 digit phone number! As an added bonus, it was manufactured by the "Kitchen Kween."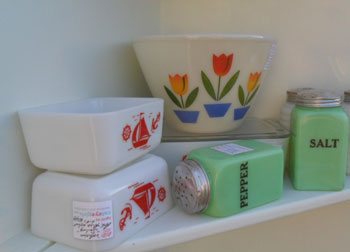 Kitchen stuff! Fireking, McKee . . . yummy treasures to make your kitchen sing and a source of inspiration for us all to step away from the plastic!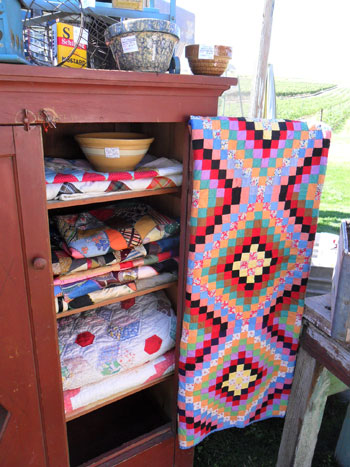 The real deal with "funky junk" . . . primitives . . . primitive pie safe paired with "a year of someone's life," also known as old handmade quilts.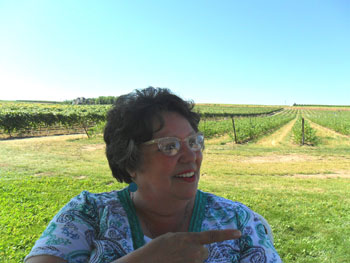 Here is our pal, Carol from the Sixth Street Gallery in Prosser . . . Who stopped by to "point" out that she too is a "Cat Eye Girl!"
This is one of Roxy Ann's "packing for hunting season" displays . . . (Roxy Ann --otherwise known as Ann Steiger -- is the protector and keeper of the Roxy Theatre Antiques in downtown, historic Kennewick and promoter of the Tri-Cities Spring Antique Show held in Pasco in March).
Two days from the 4th of July, Ann's space was decked out in red, white and blue!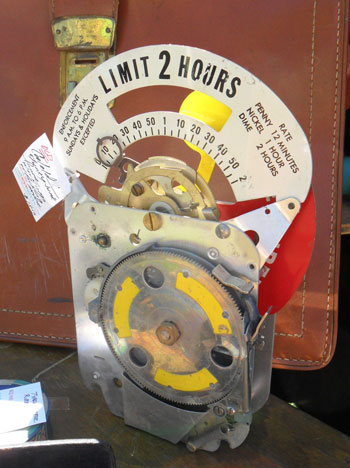 There was no time limit on how long you stayed at Antiques on the Farm . . . the parking meter was inoperable and the meter maid, well, was out to lunch . . .
Everything that the Michener family did to prepare for their "Antiques on the Farm" show encouraged farm visitors to slow down, relax, have fun and spend the entire day at their beautiful farm . . .
Everywhere you looked you could see people playing, sliding, laughing, sharing, picking berries and cherries, finding inspiration in funky junk, petting a farm dog, riding a pony, taking a train ride, laying on the grass enjoying the splender of a good shade tree on a warm summer day, pulling up a chair to listen to live music and swinging as high as they could!
ps. In our humble opinion . . . this antique and funky junk show is in its infancy and we think it is going to grow up to be something REALLY special that will continue to grow as bountiful as Farmer Bill's blueberries . . . Make your 2012 vendor inquiries soon, as you may soon find yourself on a waiting list instead of setting up at Antiques on the Farm next July!